Half Term Holiday
School closes today for the half term holiday. We re-open Monday 03/06/2019.
Welcome to Hyndburn Park Primary School
Our school is busy, thriving, popular and successful, with everyone involved working hard to help our children to be the best they can and get the most out of their time in school. Our curriculum is designed to promote high standards, develop a love of learning, and encourage children to become independent, thoughtful and considerate members of society. We work hard with families to ensure that every child's needs are met; that each one is challenged and supported to achieve as much as they can do, and hopefully have fun in the process! We are proud of our school and the improvements we have made to it over the past seven years or so. Our website contains much information, but if there is something else you would like to find out, or if you would like to visit the school, please don't hesitate to contact us. If you would like a hard copy of any of the information on the website just let us know and we will happily provide what you need.
With very best wishes,
Wendy Tracey
Headteacher
Operation Encompass
As of the 29.04.19 - Operation Encompass will go live in our school. In conjunction with Lancashire Constabulary, Hyndburn Park is involved in a national initiative called "Operation Encompass". The purpose of Operation Encompass is to safeguard and support children and young people who have been involved in, heard or witnessed a domestic abuse incident. Operation Encompass has been created to address this so that by 09:00 on the next school day, the school's key adult – Mrs Hardwick – will be informed that the child has been involved in, heard or witnessed a domestic incident. This knowledge, given to schools through Operation Encompass, allows the provision of immediate early intervention through silent or overt support, depending on the needs and wishes of the child. For more information, please follow the link below.
Click here to find out more.
Playground Fun!
KS1 have really enjoyed drawing pictures with chalks outside in the sunshine! We have some very talented and artistic children!
Animal Boogie!
EYFS have had a great time at their Animal Boogie to kick start their new theme of Amazing Animals. The children and staff all dressed up as different animals and enjoyed various different activities including making animal masks, creating paper chain snakes, dancing like animals and making animal noises!
Pirates Ahoy!
KS1 have enjoyed a fun afternoon making pirate crafts and going on a pirate treasure hunt in our forest school area! This was to kick start their theme for the 2nd Spring half term and the children and staff had lots of fun!
Road Safety!
In Class 6, we have been learning about how to cross the road safely. We have learnt to always hold a grown ups hand when crossing the road, to always walk across the road and how to cross the road safely when crossing between parked cars. We have done lots of fun activities in class and have crossed real roads outside with the help of our teachers.
Victorian Day!
To end their theme on the Victorians KS1 took part in a Victorian Day. The children and staff came dressed in Victorian outfits and they took part in different activities including a lesson in a Victorian classroom, sewing and enjoying a Victorian tearoom.
The children also had the privilege of being shown how a Spinning Jenny worked and was used to spin the wool. All in all a very exciting end to the theme!
Playground Buddies!
Our Playground Buddies are all fully trained and qualified with first class training in delivering a range of fun activities and games on the yards. They have all really enjoyed taking part in understanding what a Playground Buddy means and how they can take on a leadership role whilst on duty. Well done to each and every one of you and we have no doubt you are and will continue doing an amazing job!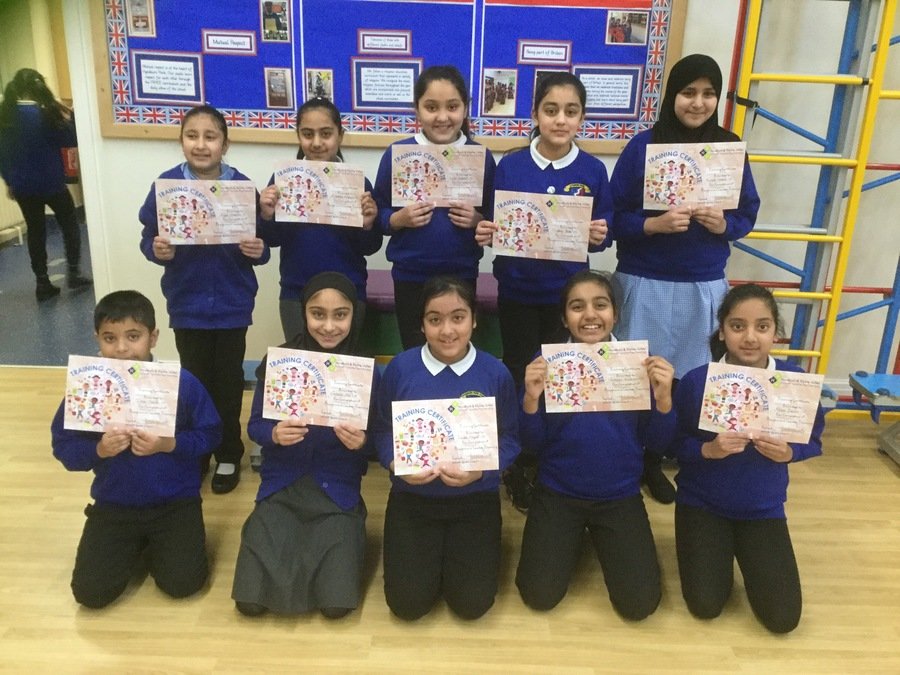 School Council 2018!
Our newly elected Year 6 Heads and Deputies, School Council as well as Playground Buddies officially had their badge ceremony on Friday 7th September 2018, in order to begin their new roles at Hyndburn Park! We're all certain their going to do a fantastic job in order to be the voice of our School.
Head Boy:

Safiuallah Azhargul

Head Girl:

Aqsa Kauser

Co-Deputy Head Boys:

Areeb Asif and Abu-Bakr Saghir

Deputy Head Girl:

Zoya Shahid

Year 6 School Council members:

Aaliyah Hussain

Fatima Hussain

Laiba Mahmood

Amirah Naveed

Zoya Zafar

Iqra Bi

Rehaan Ali

Mahibah Ahmed

Playground Buddies:

Aliza Zamir

Mahibah Ahmed

Narmeen Hussain

Aliyah Hussain

Umar Malik

Nimrah Hussain

Muskan Bibi

Areesha Hussain

Waseelah Ali

Alishba Hussain

Laiba Hayat

Aleshba Fatima

Hifsa Kabeer