Welcome to Hyndburn Park Primary School
Our school is busy, thriving, popular and successful, with everyone involved working hard to help our children to be the best they can and get the most out of their time in school. Our curriculum is designed to promote high standards, develop a love of learning, and encourage children to become independent, thoughtful and considerate members of society. We work hard with families to ensure that every child's needs are met; that each one is challenged and supported to achieve as much as they can do, and hopefully have fun in the process! We are proud of our school and the improvements we have made to it over the past seven years or so. Our website contains much information, but if there is something else you would like to find out, or if you would like to visit the school, please don't hesitate to contact us. If you would like a hard copy of any of the information on the website just let us know and we will happily provide what you need.
With very best wishes,
Wendy Tracey
Headteacher
School Council Lunch!
School Council, along with Miss Iqbal and Ms Southworth, had a fantastic 3-course meal at Monte Cristo on Friday 13th July.
The food was delicious and the service provided was fantastic too! Thank you to the chefs for making it a worthwhile end of year treat for our Year 6 School Council, who have ALL worked incredibly hard!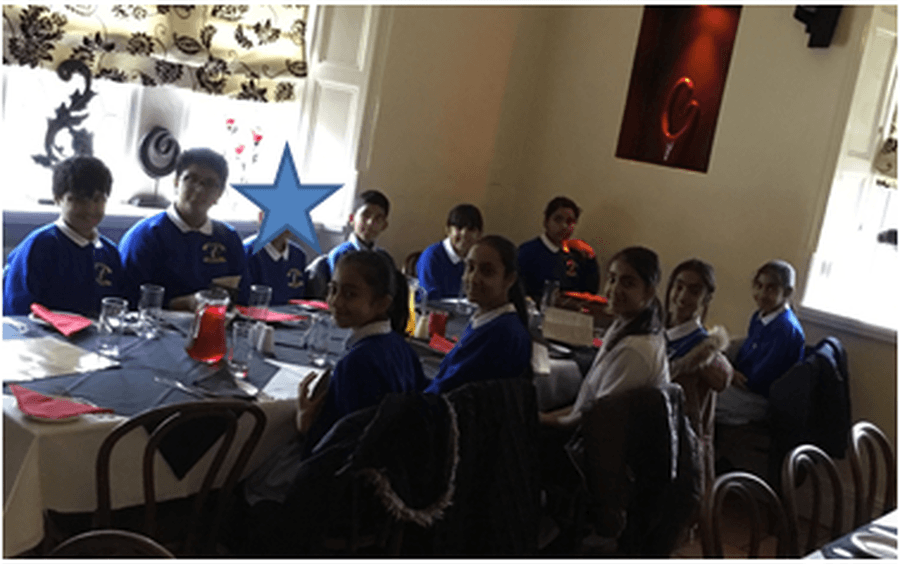 Our Year 5 children (Classes 15 and 16) and teachers would like to thank all the staff at Burnley College for coming to visit our us for our 'Careers, Aspirations and Goals' event!
The children and staff really enjoyed the amazing activities at all the stations, including the Army, Law, Sport Science and Leisure, Engineering, Geography, Health and Social Care, Film and Media Studies, Science, Construction and finally, Spanish!
A special thank you to Mrs Ingram for organising the event!
Year 6 Residential!
Some of our Year 6 children recently went on a residential trip to Winmarleigh Hall and had an absolutely fantastic time! The weather was lovely and the children and staff enjoyed a variety of different activities including a rope climbing course, archery, team games and quad biking! A huge thank you to Mrs Thompson, Mrs Mazur and Miss Smith for taking them.
Chopsticks and Dragons!
Classes 15 and 16 (Year 5) really enjoyed their 'Chopsticks and Dragons' Theme this half term! We loved learning about China, the geographical setting of the country, the different cultures, traditions, celebrations, food as well as how the country is affected with pollution. We ended our Theme with a showcase of all that we'd learnt and a shadow puppet show to represent the heritage of China.