Half term Holidays
School closes today for the half term holiday. We re-open at 08:45 on Monday 25/02/2019.
Welcome to Hyndburn Park Primary School
Our school is busy, thriving, popular and successful, with everyone involved working hard to help our children to be the best they can and get the most out of their time in school. Our curriculum is designed to promote high standards, develop a love of learning, and encourage children to become independent, thoughtful and considerate members of society. We work hard with families to ensure that every child's needs are met; that each one is challenged and supported to achieve as much as they can do, and hopefully have fun in the process! We are proud of our school and the improvements we have made to it over the past seven years or so. Our website contains much information, but if there is something else you would like to find out, or if you would like to visit the school, please don't hesitate to contact us. If you would like a hard copy of any of the information on the website just let us know and we will happily provide what you need.
With very best wishes,
Wendy Tracey
Headteacher
Mad Science!
A member of the Mad Science North West team recently led an UKS2 assembly. It was amazing!They performed a number of experiments, which the children all enjoyed. They will be running an after school club, starting on 25th Feb for 4 weeks at a cost of £30 per child (£27 for concessions and siblings). There will be a maximum of 25 places and children need to be signed up by Tuesday 5th Feb.
Viking Extravaganza!
Year 5 kick-started their 'Vicious Viking' Theme with a visit from two Vikings in School. They had a brilliant afternoon learning all about the Viking history and artefacts, trying on Viking clothing and jewellery and even took part in a Viking battle on a long ship! It was great fun!
Santa Dash!
Some of our Year 5 and 6 children took part in the local Santa Dash and did a brilliant job! Well done!
Playground Buddies!
Our Playground Buddies are all fully trained and qualified with first class training in delivering a range of fun activities and games on the yards. They have all really enjoyed taking part in understanding what a Playground Buddy means and how they can take on a leadership role whilst on duty. Well done to each and every one of you and we have no doubt you are and will continue doing an amazing job!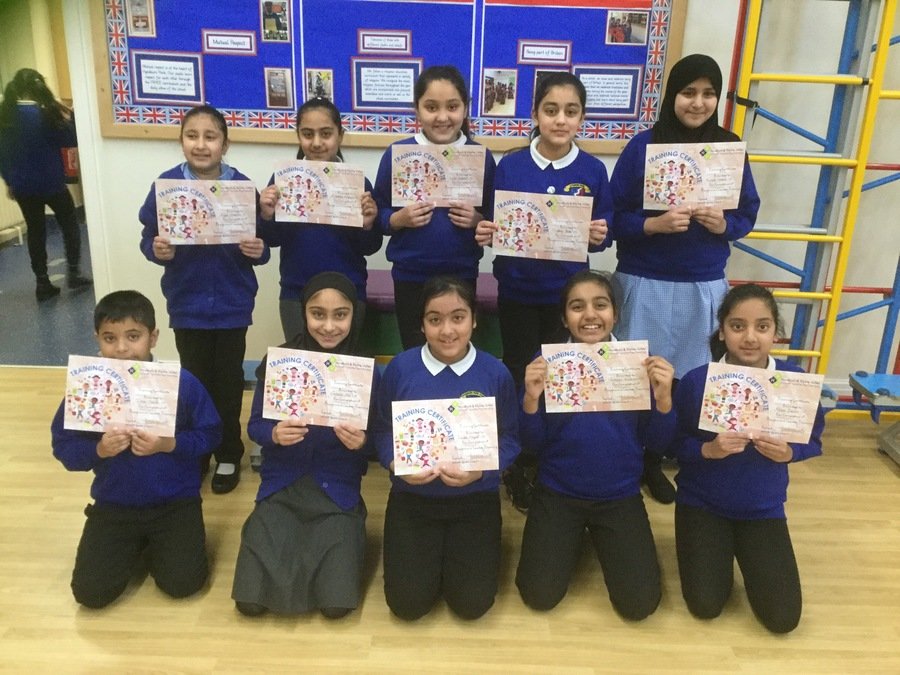 Museum of Science and Industry!
On Friday 12th October, classes 12, 13 and 14 visited the Museum of Science and Industry to learn more about their theme 'There's No Place Like Home.' They explored the cotton mill and found out more about life for the children working in Lancashire's cotton mills. They also had great fun exploring the science experiment area.
Grand Forest School Opening!
The Forest School at Hyndburn Park has finally been completed. An area once referred to as 'The Jungle' has now been transformed into an outdoor classroom! On Monday 10th September 2018, we held the Launch Event to officially mark the area 'open'. Julie Hesmondhalgh, governors, the Mayoress and friends of the school joined the children to celebrate the long awaited opening. The following article in the Accrington Observer described the event and Forest School in some more detail: https://www.accringtonobserver.co.uk/news/corrie-star-julie-hesmondhalgh-returns-15144427
School Council 2018!
Our newly elected Year 6 Heads and Deputies, School Council as well as Playground Buddies officially had their badge ceremony on Friday 7th September 2018, in order to begin their new roles at Hyndburn Park! We're all certain their going to do a fantastic job in order to be the voice of our School.
Head Boy:

Safiuallah Azhargul

Head Girl:

Aqsa Kauser

Co-Deputy Head Boys:

Areeb Asif and Abu-Bakr Saghir

Deputy Head Girl:

Zoya Shahid

Year 6 School Council members:

Aaliyah Hussain

Fatima Hussain

Laiba Mahmood

Amirah Naveed

Zoya Zafar

Iqra Bi

Rehaan Ali

Mahibah Ahmed

Playground Buddies:

Aliza Zamir

Mahibah Ahmed

Narmeen Hussain

Aliyah Hussain

Umar Malik

Nimrah Hussain

Muskan Bibi

Areesha Hussain

Waseelah Ali

Alishba Hussain

Laiba Hayat

Aleshba Fatima

Hifsa Kabeer