Coronavirus
Coronavirus
13 March 2020 (by Mr Allen (Technician))
We are following all current government guidance. Mr Pickering and the cleaning team are working hard to keep school as clean as possible.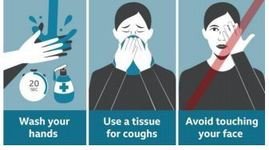 Please remember that the best way to prevent the virus spreading is to:
Wash your hands more regularly than normal hot, soapy water for at least 20 seconds.
Cover your nose and mouth when sneezing or coughing.
Then wash your hands.
Keep your hands away from your face.
You can find out more using this link: https://www.gov.uk/coronavirus