Race for Life!
"From Monday 12th March to Friday 16th March it was our Spring fund and awareness week at Hyndburn Park! Our chosen charity this term was Cancer Research UK. The School Council organised bake sales throughout the week from Nursery all the way up to Year 6.
We also held a sponsored 2K run on Friday 16th March. The weather even cleared up for us!
Throughout the week - we raised a STAGGERING £3262 . 98 for Cancer Research UK! (The highest amount we have ever raised!!).
A huge WELL DONE to our Key Stage trophy winners for raising the most sponsored funds during our Race for Life event.
Congratulations to Aqsa Mehmood in Class 2 (EYFS) for raising £147, Eissa Hussain in Class 7 (KS1) for raising £56.72, Subhan Akram in Class 11 (LKS2) for raising £132 and finally, Iqra Hussain in Class 19 (UKS2) for her £73.45!
A special thank you to all our parents, teachers, sponsors and most importantly our children, who helped to make our Race for Life event a success and for supporting such an amazing cause."
Miss Iqbal
(School Council Lead)
NSPCC Collection
On Wednesday 15th November, all the staff and children at Hyndburn Park came to school wearing their own clothes that were either 'traditional' to them or 'unique.' This was in order to promote 'differences and equality' in our School. We also donated a £1 each to the NSPCC who work tirelessly to promote equality for children and to keep children safe. We raised a huge £420 for them and they came in to collect the money.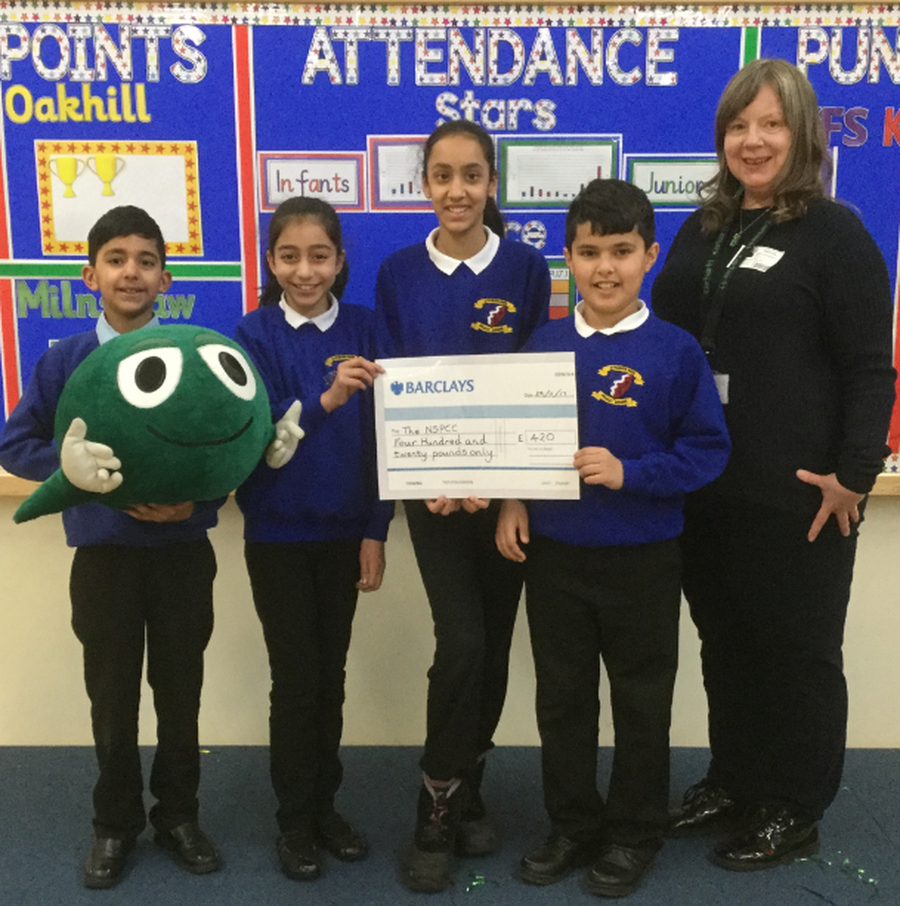 Google Expeditions
We were delighted to be visited recently by Lianne from the Google Expeditions Pioneer Programme. She brought with her a set of virtual reality headsets and Google Phones to go inside them. Using the headsets, the children were taken on amazing journeys to Africa, Australia and even the moon, all without leaving school. The children thoroughly enjoyed their expeditions and produced some wonderful writing based on what they had seen.